Nobody was born flawless. Part of beauty, to me, is embracing your flaws.
But on the days we really need to look our best (for some people, that's everyday) we can still strive to attain that enviable near-perfection look, with Laura Mercier's signature 4 Steps to a Flawless Face!
When fashion and beauty insiders are asked to name one of the most talented makeup artists today, without hesitation it's Laura Mercier. A world-renowned painter-turned-makeup artist, Laura is known for her trademark 'Flawless Face' and her makeup line that enables you to achieve your full beauty potential.

From concealers that go virtually undetected to foundations that resemble second skin to glosses that leave your lips with a just-bitten glow, Laura's cult favorite collection has an uncanny way of becoming so intrinsic to your daily beauty routine, you'll wonder how you lived without it.
Laura Mercier's 4 steps to a Flawless Face are, Step 1: Prime The Skin. Step 2: Apply Foundation. Step 3: Apply Concealers. Step 4: Set With Powder.
Armed with my Laura Mercier make up & brushes, I'd like to share with you girls how I turned my ordinary, uneven complexion into one that has a seemingly flawless finish that looks surprisingly natural!
Here's me, barefaced. Loud and proud! To be real honest, I actually don't mind showing people my naked face from time to time, but that doesn't stop me from trying to look my best the rest of the time.
Let's start!
To start off we have Step 1: Prime The Skin with Laura Mercier's Foundation Primer, which minimizes the look of imperfections, and enhances my make up wear throughout the day. I opted for the one with a radiance formula because I like having that extra touch of healthy glow. An overly powdered or matte face is unrealistic and can look as if you've piled a lot of make up on, so adding some a soft glow will keep it looking healthy, instead of pasty.
To better demonstrate the full potential of Laura Mercier's products, I asked my soul sister & make up artist friend, Marie Soh to doll me up! Isn't she gorgeous? These steps are actually very easy to achieve on your own, but I decided to ask for her help so that it would be easier to see the steps in pictures – I don't have to fuss about posing or snapping the pics!
Next, is Step 2: Apply Foundation.
Once upon a time, I had a stigma against foundation, thinking all foundations looked too artificial. But of course, that's not true, as I have found out. It's all about finding the right product that's suitable for you, and using the proper application technique.
Seen here is Laura Mercier's Tinted Moisturizer (SPF 20), which is a hydrating formula with buildable coverage that successfully evened out my skin tone and glided on my face effortlessly. It feels like second skin thanks to its moisturizing properties. Always blend in towards your hairline and down towards your neck so it doesn't look like you have a face mask on!
There's something immensely satisfying about Step 3: Apply Concealers, making those dark eye circles fade away and skillfully hiding those pesky blemishes. We tested out Laura Mercier's new release, High Coverage Concealer, and it truly lived up to its name! My panda eyes were now almost non-existent!

We also used Secret Camouflage to eliminate my reddish pimple marks, which worked like magic!
I always make it a point to conceal around my lips, too, because natural darkening occurs and I find brightening up the area helps "lift" my smile!
Did you know that you're not supposed to use the same concealer for under eyes and the rest of your face (other dark areas – usually around the mouth – and concealing reddish blemishes)?
For the under eye, you will need a more emollient formula like High Coverage Concealer or Secret Concealer to reduce the appearance of fine lines and brighten the area whereas Secret Camouflage is only meant for the face. The highly pigmented concealer and dry texture requires very little product to achieve a natural coverage that does not cake. Creamy concealers will not be ideal for inflamed, red areas.
On top of that, the undertones for concealers should vary according to the areas of your face to balance the color properly. This explains why Laura Mercier Secret Camouflage comes with two-toned pan. It allows you to custom-blend the color and tone according to your discoloration, blemishes and redness.
For an extra boost to my tired eyes, Secret Brightening Powder was gently dabbed on to set the concealer under my eyes, making me look livelier instantly! You can also use this on areas to be lightened and brightened but never to set on the entire face.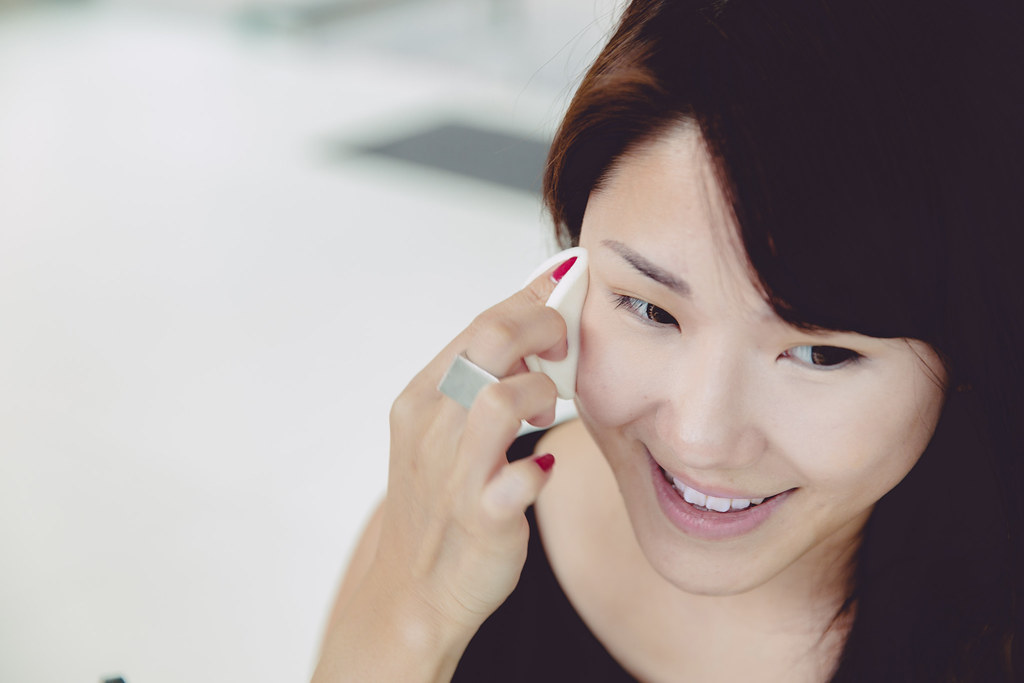 The last step, Step 4: Set With Powder, is one not to be overlooked.
Laura Mercier's Translucent Loose Setting Powder is extremely light-weight, translucent and an essential step to prolonging your make up wear. This is really important for us ladies in Singapore, where the humidity is soaking wet every single day and it feels like our entire face might melt off in the afternoon.
Unlike usual practices to set makeup with brushes, Laura believes using a Velour Puff to press the translucent loose setting powder into the skin will "marry" the powder with skin to most effectively set and prevent foundation from "sliding". To do this, saturate the Velour Puff with the powder and gently press the puff in a rolling motion to work the powder into your skin.
It also helps to:
1. Prevent your T-Zone from appearing oily halfway through the day
2. Reduce the smudging of your make up
3. Keep hour make up looking fresh until night time
4. Reduce appearance of fine lines, wrinkles, pore size and other imperfections
The different types of powders Laura Mercier carries include:
1. Translucent Pressed Setting Powder: Translucent Loose Setting Powder pressed into a portable compact for convenient touch ups and travel
2. Invisible Loose Setting Powder: Talc-free, zero color pigments, so it disappears upon application for an immaculate finish
3. Invisible Pressed Setting Powder: Similar to Translucent Pressed Setting Powder, pressed into a portable compact for convenient touch ups and travel
4. Mineral Finishing Powder: Ideal for setting mineral formulas and liquid foundation,
5. Smooth Focus Pressed Setting Powder: Eliminate shine and control oil, with a mint green tint to correct redness. This is also ideal for touch-ups throughout the day!
With such an extensive range to choose from, you're probably wondering.. which one is perfect for you?!
Loose powder is suitable for oily skin, as it contains oil absorbing ingredients that can offset stubborn shine. It is more finely milled than pressed powder, and offers a barely-there look. However, as loose powder containers are bulkier than pressed powders, it is often used at home instead of being carried around as it can get quite messy.
With pressed powders, it is slightly easier to control the amount of product you apply as it is mess-free and compacted, perfect for touch ups on the go. Due to the stronger pigments you would want to be a lot more careful and light handed with pressed powders.
If you have oily skin that tends to mess up your make up as the day goes on, you'll fall in love with Laura Mercier's Secret Finish product. It's a make up artist favorite which comes in two forms:
1. Original - for normal to dry skin – provides a dewy finish or if the makeup looks too matte, it can help to make it look more natural and 2. Mattifying - for oily skin – controls oil and helps makeup looks fresh. Suitable for touch-ups, no need for powder touch-ups.
Squeeze a pea-sized amount of the product on your fingers, lightly rub with both hands and pat on areas around the face that requires touch-ups.
Andddddddd, voila. I've completed Laura Mercier's 4 Steps, and I look so much more ready to take on the world than just before!
No more patchy skin tones or listless looking eyes. You wouldn't have guessed I was actually sleep deprived. This is without any other make up on, except those stated above. If you like to keep the look minimalist, you can stop here and go about your daily activities feeling confident and fresh-faced. But since we've gotten ourselves this far… why not just go all the way? You've already created the perfect canvas for the rest of your make up!!
Fill the brows, tightline those lids, add a pop of lip color and the last touch – romantic lashes, and we're all done!!! What do you think of the look?
It is different from my everyday look, but I love the flawless finish, it's as if I'm glowing. It's very put-together, yet light enough for everyday wear. In fact, I wore this make up all through the night, till about 10pm, and it did not budge at all, proving to be extremely long-wearing and suitable for ladies who want to look fresh from morning till evening.
Head down to any Laura Mercier counters (Robinsons Orchard, Takashimaya and TANGS Orchard) to find out how the award winning Loose Setting Powder can set your makeup flawlessly, and receive a 5 day trial size Flawless Face sample after a short consultation when you mention "Shiberty"!
Also, stand a chance to win a gorgeous Laura Mercier Hamper worth up to $400 when you share your consultation experience on Laura Mercier's Facebook page.
Laura Mercier is available at Robinsons Orchard, Takashimaya, TANGS Orchard and all Sephora stores.
T&C apply: Redemption starts from today to 15 Jul (Tue), one per customer. Limited to first 50 customers per counter and is not valid at any Sephora stores. Facebook contest closes on 15 Jul (Tue). Applicable for Singapore addresses only.
.
.
.
Thank you Laura Mercier for giving women everywhere the right tools and tricks we need to achieve a Flawless Face, and for letting me meet your national make up artist Alexandre Cianco at the Laura Mercier Global Makeup Artist Event! He managed to convincingly demonstrate the effectiveness of the newly launched High Coverage Concealer on my angry looking TCM cupping marks, which everyone present that day was impressed by.
Other thanks:
Big thanks to my wonderful friend & make up artist,
Marie Soh of mariesoh.com,
for doing a fabulous job with this look!
If you noticed the pictures in this post are more professional looking than usual, your sharp eyes have discovered the talents of
Samuel Ng
of
Pixioo Photography -
thank you for the great shots, even though your forte is in prewedding & actual day shoots!
Till my next post: stay beautiful, girls!