There is a big surprise at the end of this lengthy post!!! If you are impatient you can skip it, but it would be nice if you read what I have to say first
.
.
.
So…. sorry for the lack of updates recently, I've been working on something pretty exciting.
I'm quite emotional while writing this because I can't believe it is actually happening. I really can't believe I actually managed to get it done. Not without the help of some incredibly talented people who were generous enough to lend their awesomeness to me, of course. I don't know where to start or how to tell you guys what I'm doing or what is on my mind. Let me try to phrase this into proper sentences.
Here goes.
I've always liked singing since I was a kid. My mum would tell funny stories to people during dinner time of how when I was 3 years old, I would walk up to strangers and start singing Michael Learns To Rock unabashedly. Obviously I've lost that flair along the way, because I am actually quite reserved in real life as an adult now. But the point is, I've loved music ever since I could remember. Growing up, whenever I felt neglected, alone, rejected, angry, sad, disappointed, confused… I would turn to music to console myself. Humans have never been there every step of the way with me, but music has. Soothing tunes would fill my ears and soul and I'd instantly feel my mood lift and the world seemed to make sense once again. When I got bullied in school, I dreaded waking up and having to go to school every single day. Then I joined the choir, and realized that whenever I sang my heart out, life was better. There wasn't a bad day that a good song couldn't fix. My relationship with music hasn't faltered since.. and till today it is a huge part of my every day life.
So now you know how it all started. The second part of my story is to tell you guys why I decided to record a Youtube video of myself singing. This next part is going to be a little shameless. So bear with me. When I was in the school choir, my choir teacher called me the Reigning Queen of all the kids she has taught. Hahahahah I kid you not. To be fair, I was only 11 years old and I think she just liked me extra because I was the teacher's pet and was happy to sing for her whenever she asked. M primary school friends didn't understand what the word Reigning meant, and always made fun of me for being Raining Queen instead…. -_- Anyways, that was the first time in my life anybody told me I could sing. Since then, my choir teacher gave me the confidence to embrace singing as a hobby. I went karaoke-ing with my mother every other weekend, singing The Beatles, Carpenters, Eagles, and I loved every second of it. I thought to myself, "how nice would it be if I could do what I love for a living, and sing as my job? I want to grow up to be a singer."
That's my childhood ambition. To be a singer. To sing on a stage and hear people applauding me and singing along with me and all that jazz….. I feel a little bit embarrassed typing this because, whose childhood ambition was NOT to be a superstar?! Everyone wanted to be rich and famous. Everyone wants to be a superstar. I grew up wanting to be the next Avril Lavigne. She was my hero. (my new hero is Taylor Swift but that's for another post) Much to my own disappointment, after leaving the school choir, I somehow never bothered pursuing my music hobby / ambition any further. I just left it as it is. The older I got, the less I believed in myself and it just seemed like a silly dream. When I grew older and reality sank in… I understood that being good at singing just isn't good enough. Being just decent at karaoke will not make you a superstar. I realize that now. I pursued cake making instead which I realize a lot lesser people have the talent for (yay) so I felt a bit more special. I know a lot of people who can sing who never really got anywhere even though they tried, so I was worried I'd end up like them. I told myself, "Aiya, don't embarrass yourself please. You think you really superstar meh? Your singing just okay only lor. Don't be naive. Grow up, get a real job, live life like everybody else."
But no matter what I did, the thought of singing never left my head. I would always be searching for Youtube covers online and admire people who had the courage to post their singing online. It seemed like so much fun. When you love music as much as I do, you would want to share it with other people, and have them share it with you. Even some videos that got less than a hundred views, I would still enjoy watching them sing and knew I liked watching them for their individuality and unique cover, not because they were the best singer in the world. I knew I would die with regrets if I didn't get off my ass and record my own cover some day. To do what I've wanted to do, when I dared to dream. When dreams weren't considered ridiculous and out of reach. What would life be worth if you never tried to achieve the impossible? It's okay if I don't become a superstar (LOL). It's okay if my videos don't get a lot of views, if people don't think I'm that special, or if I never got that singing career I've wanted so bad. I can always have a normal working job, but sing as my hobby, sing because it makes me happy. I will do the things I like doing BECAUSE I LIKE doing them, I shouldn't expect anything else to come out of it. I started my cakes at Shiberty's Sweets (http://shibertys.blogspot.com) the exact same way. It exploded and snowballed into something bigger than I've ever expected, but I never intended to turn out that way. It just did, and I'm happy it did. If it didn't, that's fine with me as well. You guys have been so kind to me all this while, supporting my cakes since the very beginning, and some of you have been reading my blog for years, I know. I appreciate your encouragement and being here with me, watching me grow. I hope you like this new side of me (I'm actually moving and on video now!! Strange huh?) and that you welcome it with open arms because I'm going to be doing many more covers after this, I reckon. You're going to have to get used to it
I don't know how people will react to my video, or if they will even give a damn at all. But I'll tell you what. I am darn happy I actually managed to get it done, and watching it makes me SO excited for myself. Definitely made the right move here!!!! My friends and loved ones have been so supportive, it makes me want to cry. My best friend was literally bursting with excitement and it was so heartwarming to see how proud he was of me. My mother just kept smiling while she was listening, and insisted that I downloaded the song into her phone immediately. I didn't think they would be even more excited than me. Thank you to everyone who has ever asked me to pursue singing and for making me believe it's important to do what you love. Life is too short to live being practical every single day.
Some day you just gotta let all your reservations go, and sing.
Enjoy the music.
This is my cover of Begin Again, by Taylor Swift, with Sky Ong. A track on her new album Red which will be releasing 22nd October 2012.
I would LOVE YOU TO THE MOON AND BACK if you posted it on Twitter / Facebook / anywhere you want to, or shared it with your friends!! If you don't like it, I promise I will try harder the next video, and even harder the next. And diet a bit more so my arms don't look so flabby lol… The camera being lower than my face is not a good angle… We finished recording the main voice audio and filming the video in less than 5 hours! Not bad huh? How long Sky took to record the instrumental and mix everything else is a different story altogether, of course…
If any musicians, music producers or videographers would like to work with me for future Youtube videos, please email me at Shiberty@hotmail.com because I'm going to need all the help I can get!
For those who are doing this professionally and are for hire, feel free to email me your rates as well.
Big big big shout out to Sky Ong who you also saw in the video!!!!!!! ♥ He came up with the kick ass instrumental track, and is the genius / master mind behind this whole video. He plays the drums, guitar, sings a bit, and does everything else in between omg. We did the filming at East Coast Park, and mixed the song in his home studio!! How crazy TALENTED is he?! You don't know how much this all means to me Sky. Love you big time! He's also in a local band called Black Forest, do check their music out here!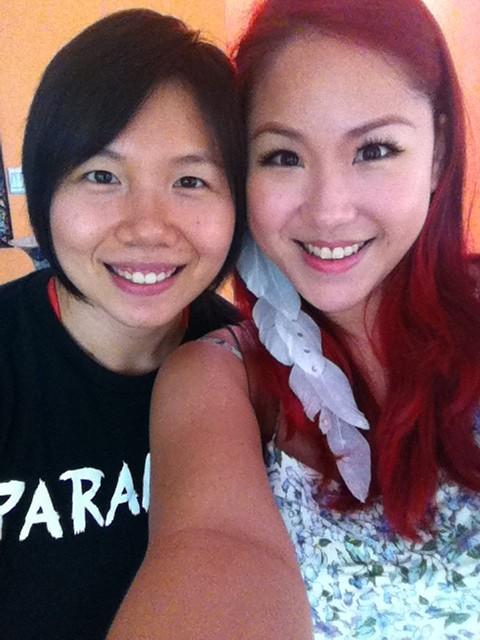 Special thanks to super sweet Xin Ang as well, who provided the lovely backing vocals and the harmonizing bits, which helped me in the parts I struggled in. You sound like an angel girl! She also played the bass in the instrumental track and was a huge help for filming. All these people, so multi talented! Love!!! And thank you to Huiwen for hooking me up with Sky in the first place! You guys are srsly da best.
.
.
.
.
You'd make my day if you hit the play button… and let the music Begin Again!