Nuffnang said they would be announcing the "I LOVE MY APPLE" contest results soon.. Told us to stay tuned and check our e-mails!
By Sunday, when I received no e-mail, I knew that I didn't win already
But stiill, I carried this teeeeny weeeennnyy hope that the email got delayed or something, and to my absolute delight, I opened my inbox this morning and I saw
………………

"CONGRATULATIONS from Apple!"
I SCREAMED!!!! Yeah, I was so happy that I screamed cuz you have no idea how much I want an iPod Touch.
I was like, "OH YEA BABY!!!!! JESSSICAAA WWOOOOOONNNNNNNNNN"
All until…
.
.
.
.
.
.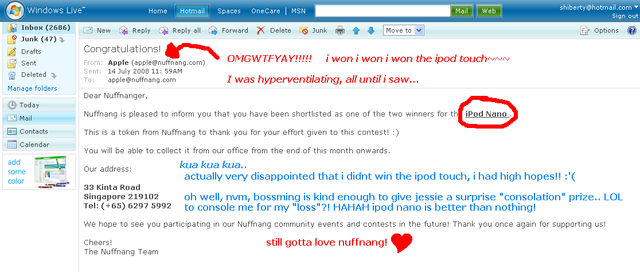 LOL.
In the end, I won an iPod nano instead of iPod touch… I know I shouldn't really be complaining!
Love Nuffnang ("v")
So yeah, maybe gonna sell it away because like I've mentioned before, my main purpose is to watch videos on the iPod touch..
iPod nano is adorable and compact but the screen so tiny, how to watch videos?!
Interested buyers may contact me… Dunno the colour yet! Either that, or give it to James.
Or, any kind souls out there wanna trade their perfect condition iPod Touch for my brand new iPod nano?!?
I'll exchange 5 sets of my used lingerie (that still has my scent. SEXY!!!) and my spanking new ipod nano from nuffnang for YOUR iPOD TOUCH.
HAH!!!!!..
Shiberty@hotmail.com ok???
xoxo,
Jessica